15th April.   Bills birthday today.  Woke up at 3.30 and sung happy birthday.   Found a really good Vibernum Anne Russell at The Tewkesbury Garden Centre…exactly what I was looking for on line so really glad to be supporting  locals.   Had so much fun opening presents with Inna (4) who Bill calls our ray of sunshine!   We are all going to The Crown to celebrate tomorrow.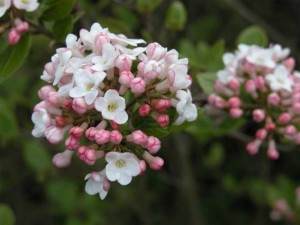 Great excitement this week as we are going on holiday.   First time we have been away for 3 years and so very pleased to have made such a huge decision.   We are off to St Petersburg via Denmark and Sweden and lots of other interesting stops, sailing with Swan Helenic on the Minerva.   
All the cottages are let for two weeks to a lovely family who are here to remember their mother, who sounds like a real matriarch and who died last year.   They are all so nice and appreciative and no trouble at all.    
We had a huge thunder storm yesterday evening and worried as all the nests are getting washed away just as the eggs are hatching.  When it rains so hard  the drains block, so we have  to  rush out  to check them….really hope the family will remember to do this when we are away.   
Seedlings doing well in Bills polly tunnel but he was concerned when he was joined in there by a tiny rabbit and a little shrew.  The trouble was he felt so sorry for them getting wet outside.
We had a delicious lunch at Birtsmoreton Court on Sunday with lots of friends and lots of laughs.   Much talk of how the referendum will turn out.    Their garden has recently been featured in Country Life magazine.   Signing off for now….until next time.
Bill and Diana