A death in the house!   Arrived back from one Lucy and Charlie Millars lovely wedding to find drama at home.  A poor pheasant had crashed through the huge elongated sash window on the stairs and hopefully died instantly on the stone floor below, luckily not on the treasured new stair carpet!   Delicious pheasant was enjoyed soon after a short hang in the larder.  BIll was happy as the rabbits had not got in to eat a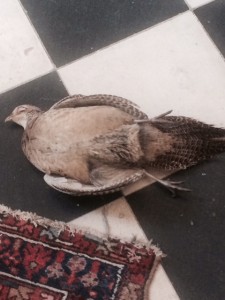 ll his newly sewn plants but naughty Bertie, the dog, did another walk about in the village and nearly caused an accident     
 Funny coincidence in Scotland, the kind B & B owner who gave us a lift was proud to tell us that she had recently had Claire Balding to stay so we were happy to say snap and agreed how lovely she is, and so much prettier than on TV, as she was our guest of honour in the Dovecote over Gold Cup week. Another famous guest for Gold Cup was James Anderson, cricketer. The evening he arrived he got the train to tiny Tewkesbury station to find none of his party there to meet him.   They were all having dinner and well away, so asked Bill if he would go. He found a deserted station, but after driving around lonely streets for a while found James standing dejectedly by a bus stop!   All arrived back home safely.   
Holidays are in full swing here with Kite Studios Art classes going really well.  What better place to explore the theme ' a land of leaves' inspired by Karl Blossfeldt  than the grounds of upper court. The class has been in full swing with an etching press. The next classes will be May bank Holiday.
Excited to be getting a quote today to knock through wall between kitchen and dining room in Courtyard Cottage which will make it all much lighter, which we realized needed doing after staying in the cottage as a family ourselves.  New pair of sofas look great.   The pub seems to be as busy as ever every evening.   Hamish had a delicious paella the other night.   We all had a great bbq at our favourite spot down by the lake, which is always wonderful.   Must get more logs to sit on.   It is tradition to cook sausages made by Petra's father and lots more!   Longing to camp down there and to build a compost loo!  
Had a great time as a special treat at Cotswold Farm Park with all the family, my favourite animals were the Tamworth piglets.   The only trouble was that it made Bill and I truly regret that we have not been farming as well, all our working life!   Glad Bill took crutches to walk around with.
Thrilled to have had some great Trip Advisor reviews.   So glad we seem to be getting things right but need more mid week bookings.   
Finally the garden.   All looking so pretty but I am sad to see spring flowers are beginning to die.   Really look forward to seeing all the seeds coming up that Bill has spent hours planting.   Need to think what we shall plant on the bank Graham has terraced for us over the Mill Stream.  Any ideas?
Until next drama!    Diana